Sparrow
Jump to navigation
Jump to search
Sparrow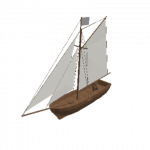 Info
| | |
| --- | --- |
| Type | Cutter |
| Role | Escort |
| Hull Strength | 3300 |
| Speed | 8 |
| Armament | 2x Light Cannon |
| Max Cargo | 4 |
Requirements
| | |
| --- | --- |
| Metal | 5 |
| Wood | 40 |
| Doubloons | 1000 |
| Level | 0 |

Shipwright says...
The Sparrow's increased maximum armament makes up for her lack of cargo capacity.

The Sparrow is a very convenient starting ship for any new player to the game. It's fairly low cargo capacity of 4 is made up for by it's faster speed compared to other ships at its level.
The ship is relatively low-cost if a player wishes to construct one themselves, but it is given to players for free as one of the Starter Ships.
Trivia
Named after the Sparrow family of birds.
As of 11/6/2018, this ship is given for free as one of the Starter Ships to all new players, bearing the name "Starter Sparrow".
As of the 20 April 2021 update, the Sparrow is one of the two starter ships available to new players, with the other being the Swallow.
See also