Dragon
Jump to navigation
Jump to search
Dragon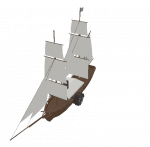 Info
| | |
| --- | --- |
| Type | Steamship |
| Role | Multi-Purpose |
| Hull Strength | 8500 |
| Speed | 10, 7 with Engine |
| Armament | 2x Light Cannons, 4x Heavy Cannons, 2x Swivel Guns |
| Max Cargo | 2 |
| Round Shot Storage | Storage for 40 Cannon Balls |
| Command Cost | 8 |
Requirements
| | |
| --- | --- |
| Metal | 60 |
| Wood | 330 |
| Doubloons | 45000 |
| Level | 6 |
| Other | Steam Engine Parts x2 |

Shipwright says...
The Dragon's steam engine makes her able to travel quickly in any direction. Press E to toggle steam engine on and off. Requires coal to use engine.
The Dragon is the first Steamship available to craft at the Shipwright, allowing for fast travel against the wind direction. While its ability to trade is essentially null, its versatility and excellent maneuverability provide for a capable transport. As a combat ship, the Dragon is lacking in firepower and outclassed by more capable ships with stronger broadsides and hulls, however its quick steam engine does give it a unique trait that still gives it some merit.
Trivia
The Dragon's cover top over its engine changes color to match the dye color of the sails.
The Dragon is the one fastest obtainable steamships in the game.
See also
Tradelands Wiki
 

Ships

Mercantile

Combat

Multi-Purpose

Special

Uncraftable

 Ares •  Arrow •  Astraeus •  Atlas •  Badger •  Demeter • 16px Docksquadder •  Esoog •  Falcon •  Goldfish •  Hind •  Minnow •  Pangolin •  Rowseidon •  Steamfish •  Steam Titan •  Veteran Sparrow

-->

16px Veteran Sparrow II