Mercury
Jump to navigation
Jump to search
Mercury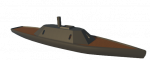 Info
| | |
| --- | --- |
| Type | Ironclad |
| Role | Combat |
| Hull Strength | 17500 |
| Speed | 7 with engine |
| Armament | 4x Medium Cannons, 1x Medium Cannon (Bow), 1x Medium Cannon (Stern) |
| Max Cargo | 0 |
| Round Shot Storage | Storage for 200 Cannons Balls |
| Command Cost | ? |
Requirements
| | |
| --- | --- |
| Metal | 1400 |
| Wood | 750 |
| Doubloons | 500000 |
| Level | 10 |
| Other | Advanced Engine x1 |

Shipwright says...
The Mercury's improved maneuverability make up for its lack of turrets. Press E to toggle steam engine on and off. Requires coal to run. *HAS NO SAILS*
The Mercury is an ironclad ship offering high health, this combined with its decent engine-speed of 7 and fast turning rate make it a high manoeuvrable ship. The armament of this ship consists of 4 Medium Cannon slots, 1 Medium cannon bow slot & 1 Medium cannon stern slot. Even though the armament of this ship might not be the best, it's high manoeuvrability and unique turret placement make up for this. This all combined with its excellent armor protecting the crew from being sniped make the Mercury a great all rounded ship. The Mercury can operate independently but can also function as effective support ship in fleets.
Trivia
The Mercury was released on December 30, 2022
The Mercury is named after the Roman god Mercury, god of shopkeepers and merchants, travelers and transporters of goods, and thieves and tricksters.
On March 3rd, 2023, the Mercury received an updated model, along with extra customization and the Mercury Upgrade figurehead.
See also
Tradelands Wiki
 

Ships

Mercantile

Combat

Multi-Purpose

Special

Uncraftable

 Ares •  Arrow •  Astraeus •  Atlas •  Badger •  Demeter • 16px Docksquadder •  Esoog •  Falcon •  Goldfish •  Hind •  Minnow •  Pangolin •  Rowseidon •  Steamfish •  Steam Titan •  Veteran Sparrow

-->

16px Veteran Sparrow II