Kestrel
Jump to navigation
Jump to search
Kestrel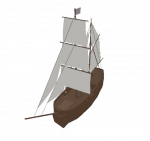 Info
| | |
| --- | --- |
| Type | Ketch |
| Role | Support |
| Hull Strength | 8500 |
| Speed | 9 |
| Armament | 4x Medium Cannon, 1x Medium Mortar (Bow) |
| Max Cargo | 6 |
| Round Shot Storage | Storage for 40 Cannon Balls |
Requirements
| | |
| --- | --- |
| Metal | 60 |
| Wood | 280 |
| Doubloons | 15000 |
| Level | 5 |

Shipwright says...
The Kestrel's reinforced bow allows her to be armed with a long-range mortar.
The Kestrel is the first mortar ship most players will have access to. Its ability to mount a Medium Mortar provides a long-range combat capability unavailable to the average merchant or pirate, however it is rarely seen in combat due to being outclassed by the Manta in speed, durability, and firepower.
Trivia
The Kestrel can be described as the "younger sister" of the Manta, as they have similar profiles, cannon layouts, and playstyles.
See also
Tradelands Wiki
 

Ships

Mercantile

Combat

Multi-Purpose

Special

Uncraftable

 Ares •  Arrow •  Astraeus •  Atlas •  Badger •  Demeter • 16px Docksquadder •  Esoog •  Falcon •  Goldfish •  Hind •  Minnow •  Pangolin •  Rowseidon •  Steamfish •  Steam Titan •  Veteran Sparrow

-->

16px Veteran Sparrow II