Arrow
Jump to navigation
Jump to search
Arrow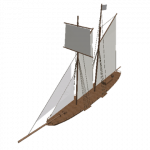 Info
| | |
| --- | --- |
| Type | Topsail Schooner |
| Role | Mercantile |
| Hull Strength | 6000 |
| Speed | 8 |
| Armament | 2x Medium Cannon |
| Max Cargo | 5 |
Requirements
| | |
| --- | --- |
| Metal | 30 |
| Wood | 140 |
| Doubloons | 10000 |
| Level | 4 |

Shipwright says...
Though sacrificing two cannons for an extra cargo unit, the Arrow's speed ensures that you will be able to outrun nearly any attacker.
The Arrow is a merchant-oriented ship with an emphasis on speed, primarily focused on outrunning pirates. The lack of cargo capacity may deter avid traders.
Trivia
The Arrow is similar to the Bullet and Dart, having the same general shape and the reference to "sacrificing two cannons".
The Arrow was removed from the shipwright in the 20 April 2021 update.
See also
Tradelands Wiki
 

Ships

Mercantile

Combat

Multi-Purpose

Special

Uncraftable

 Ares •  Arrow •  Astraeus •  Atlas •  Badger •  Demeter • 16px Docksquadder •  Esoog •  Falcon •  Goldfish •  Hind •  Minnow •  Pangolin •  Rowseidon •  Steamfish •  Steam Titan •  Veteran Sparrow

-->

16px Veteran Sparrow II