Phoenix
Jump to navigation
Jump to search
Phoenix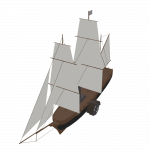 Info
| | |
| --- | --- |
| Type | Ironclad Steamship |
| Role | Combat |
| Hull Strength | 15500 |
| Speed | 9, 6 with engine |
| Armament | 8x Heavy Cannon, 2x Swivel Gun |
| Max Cargo | 5 |
| Round Shot Storage | Storage for 60 Cannon Balls |
| Command Cost | 9 |
Requirements
| | |
| --- | --- |
| Metal | 600 |
| Wood | 550 |
| Doubloons | 75000 |
| Level | 9 |
| Other | Steam Engine Parts x4 |
Variants
| | |
| --- | --- |
| Interceptor Variant | 8x Medium Cannon, 2x Light Cannon (Bow), 2x Swivel Gun |

Shipwright says...
A steam engine gives the Phoenix an advantage over the
Badger
.
The Phoenix is an improved version of the Otter, possessing both a steam engine and iron reinforced hull while keeping the same other performance statistics as its sister ship. The Phoenix's strong front-facing power and broadside armament coupled with high health and good maneuverability make it one of the most well-rounded combat ships usable with just about any fleet.
Trivia
The Phoenix is consistently considered a "meta" combat ship, due to its extremely well-rounded statistics for a 4-gun broadside ship and lack of major weaknesses. As such, it is extremely common to see being used by Navies and Pirate crews alike.
Players commonly refer to the Phoenix as a "Nix" to shorten the name down.
The Phoenix recieved a remake and a variant on May 03. 2023.
See also
Tradelands Wiki
 

Ships

Mercantile

Combat

Multi-Purpose

Special

Uncraftable

 Ares •  Arrow •  Astraeus •  Atlas •  Badger •  Demeter • 16px Docksquadder •  Esoog •  Falcon •  Goldfish •  Hind •  Minnow •  Pangolin •  Rowseidon •  Steamfish •  Steam Titan •  Veteran Sparrow

-->

16px Veteran Sparrow II