Marlin
Jump to navigation
Jump to search
Marlin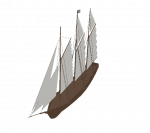 Info
| | |
| --- | --- |
| Type | Three-Masted Schooner |
| Role | Mercantile |
| Hull Strength | 8000 |
| Speed | 9 |
| Armament | 8x Heavy Cannon |
| Max Cargo | 15 |
| Command Cost | 4 |
Requirements
| | |
| --- | --- |
| Metal | 55 |
| Wood | 340 |
| Doubloons | 26500 |
| Level | 6 |

Shipwright says...
The Marlin is the perfect ship for any captain that wants to take a lot of cargo someplace quickly.
The Marlin is a vessel built for mercantile purposes that sports a formidable armament, allowing her to comfortably defend against attackers provided she has a crew to man the guns. Despite her impressive firepower, her hull is fairly weak. Like the Beaver or Pheasant, the Marlin is a common sight for players who trade and is a staple trade ship. The ships' good cargo capacity as well as its decent speed and crosswind capabilities due to its sail type, makes it a good trading vessel. One can use the Marlin until you get enough for an Mastiff which is an upgrade in cargo hold but a downgrade in speed.
Trivia
The Marlin and the Orca formerly shared a hull, until the recent remodels as of the 20 April 2021 update.
The Marlin is referenced to as the "Dolphin" in its decal name.
See also
Tradelands Wiki
 

Ships

Mercantile

Combat

Multi-Purpose

Special

Uncraftable

 Ares •  Arrow •  Astraeus •  Atlas •  Badger •  Demeter • 16px Docksquadder •  Esoog •  Falcon •  Goldfish •  Hind •  Minnow •  Pangolin •  Rowseidon •  Steamfish •  Steam Titan •  Veteran Sparrow

-->

16px Veteran Sparrow II