Demeter
Jump to navigation
Jump to search
Demeter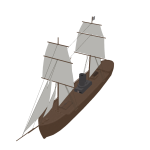 Info
| | |
| --- | --- |
| Type | Steamship |
| Role | Mercantile |
| Hull Strength | 24000 |
| Speed | 7, 7 with Engine |
| Armament | 4x Medium Cannon, 1x Medium Turret (Stern), 6x Swivel Gun |
| Max Cargo | 30 |
| Round Shot Storage | Storage for 100 Cannon Balls |
| Command Cost | 9 |
Requirements
| | |
| --- | --- |
| Metal | 320 |
| Wood | 1,600 |
| Doubloons | 2,000,000 |
| Level | 24 |
| Other | 1x Advanced Engine, 4x Steam Engine Parts |

Shipwright says...
The Demeter is the Purshovian Navy's freighter of choice, often used as a collier to supply their fleets.
The Demeter is a massive mercantile ship of Purshovian origin, with the highest cargo capacity of any player-obtainable ship. Its strong hull and quick engine makes it very difficult to catch and take down, making it an effective high-capacity ship even in high threat environments, however this comes at the expense of having an extremely poor armament. Armed with only a pair of Medium Cannons on each side and a Medium Turret on the stern, the Demeter is reliant on using its engine and stern turret to keep away from threats rather than combating them directly.
Trivia
The Demeter alongside the Ares was added on May 5th, 2022 and was buildable until May 25th, 2022.
The Demeter was buildable as a promotion for the Wessel's Exotic Wares community auction.
The Demeter is the second player-obtainable Purshovian ship after the Poseidon.
The Demeter is the only wooden sailship to be able to hold turrets.
See also
Tradelands Wiki
 

Ships

Mercantile

Combat

Multi-Purpose

Special

Uncraftable

 Ares •  Arrow •  Astraeus •  Atlas •  Badger •  Demeter • 16px Docksquadder •  Esoog •  Falcon •  Goldfish •  Hind •  Minnow •  Pangolin •  Rowseidon •  Steamfish •  Steam Titan •  Veteran Sparrow

-->

16px Veteran Sparrow II