Mastiff
Jump to navigation
Jump to search
Mastiff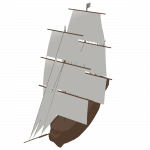 Info
| | |
| --- | --- |
| Type | Barque |
| Role | Mercantile |
| Hull Strength | 22000 |
| Speed | 8 |
| Armament | 10x Medium Cannon |
| Max Cargo | 22 |
| Round Shot Storage | Storage for 100 Cannon Balls |
| Command Cost | 7 |
Requirements
| | |
| --- | --- |
| Metal | 240 |
| Wood | 920 |
| Doubloons | 88,000 |
| Level | 10 |

Shipwright says...
The Mastiff's awesome cargo capacity and armament more than makes up for her lack of speed.
The Mastiff is a level 10 ship with one of the highest cargo capacities in the game, though despite its mercantile role, the Mastiff has a broadside not to be underestimated, and its size gives it a just as formidable health to withstand return attacks. However, the Mastiff lacks in protection along its bow and stern, an area of weakness particularly against chasing pirates or enemy bowlocks.
Trivia
The Mastiff, alongside the Pigeon, was added on April 21, 2021.
On introduction, the Mastiff had the highest cargo capacity of any ship, with the previous highest being the now-removed Atlas holding 18 cargo. This title would later be taken by the Camel on June 25th, 2021.
The Mastiff has a captain's quarters in the stern section of the ship.
The Mastiff shares the same build requirements as the Astraeus, which was removed from the shipwright alongside the Atlas.
See also
Tradelands Wiki
 

Ships

Mercantile

Combat

Multi-Purpose

Special

Uncraftable

 Ares •  Arrow •  Astraeus •  Atlas •  Badger •  Demeter • 16px Docksquadder •  Esoog •  Falcon •  Goldfish •  Hind •  Minnow •  Pangolin •  Rowseidon •  Steamfish •  Steam Titan •  Veteran Sparrow

-->

16px Veteran Sparrow II