Grouse
Jump to navigation
Jump to search
Grouse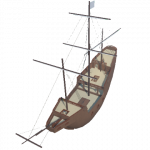 Info
| | |
| --- | --- |
| Type | Carrack |
| Role | Mercantile |
| Hull Strength | 16500 |
| Speed | 9 |
| Armament | 6x Heavy Cannons, 2x Heavy Cannons (Stern) |
| Max Cargo | 20 |
Requirements
| | |
| --- | --- |
| Metal | 240 |
| Wood | 940 |
| Doubloons | 100000 |
| Level | 10 |

Shipwright says...
The Grouse is built to carry a large amount of cargo at a decent speed.
The Grouse is a large trading ship with one of the best speeds for mercantile ships in the game.
Trivia
Many players consider the Grouse to be a sidegrade of the Mastiff.
The ship was designed by the player Scotter008.
See also
Tradelands Wiki
 

Ships

Mercantile

Combat

Multi-Purpose

Special

Uncraftable

 Ares •  Arrow •  Astraeus •  Atlas •  Badger •  Demeter • 16px Docksquadder •  Esoog •  Falcon •  Goldfish •  Hind •  Minnow •  Pangolin •  Rowseidon •  Steamfish •  Steam Titan •  Veteran Sparrow

-->

16px Veteran Sparrow II