Shark
Jump to navigation
Jump to search
Shark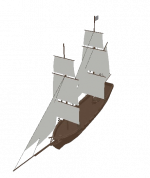 Info
| | |
| --- | --- |
| Type | Brig |
| Role | Combat |
| Hull Strength | 9000 |
| Speed | 10 |
| Armament | 8x Heavy Cannon |
| Max Cargo | 2 |
| Round Shot Storage | Storage for 50 Cannon Balls |
Requirements
| | |
| --- | --- |
| Metal | 60 |
| Wood | 330 |
| Doubloons | 30000 |
| Level | 6 |

Shipwright says...
The Shark's high speed and heavy firepower make her the ideal ship for hunting down pirates.
The Shark is a fast ship capable of dealing high damage at long ranges, but its low health requires a skilled helmsman to properly overcome. The Shark's sleek and low build also make it difficult for enemy gunners to land return fire.
Trivia
The Shark was remodeled on March 23rd, 2021.
See also
Tradelands Wiki
 

Ships

Mercantile

Combat

Multi-Purpose

Special

Uncraftable

 Ares •  Arrow •  Astraeus •  Atlas •  Badger •  Demeter • 16px Docksquadder •  Esoog •  Falcon •  Goldfish •  Hind •  Minnow •  Pangolin •  Rowseidon •  Steamfish •  Steam Titan •  Veteran Sparrow

-->

16px Veteran Sparrow II