Osprey
Jump to navigation
Jump to search
Osprey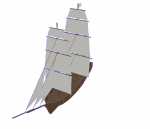 Info
| | |
| --- | --- |
| Type | Brig |
| Role | Combat |
| Hull Strength | 17000 |
| Speed | 9 |
| Armament | 12x Heavy Cannon |
| Max Cargo | 0 |
| Round Shot Storage | Storage for 180 Cannon Balls |
Requirements
| | |
| --- | --- |
| Metal | 300 |
| Wood | 960 |
| Doubloons | 140000 |
| Level | 10 |

Shipwright says...
The Osprey's powerful broadsides will send any sensible enemy running.
The Osprey is a heavily armed and compact combat ship, able to decimate most opponents which get caught in its intense broadside of 6 heavy cannons. Compared to the Retaliator, a ship of similar broadside power and size, the Osprey has a stronger hull and faster turn speed at the expense of range and crosswind ability.
Trivia
While ordinarily the Osprey is only usable by the Nova Balreska Navy in official roleplay, it can also be used by any faction that controls Perth.
See also
Tradelands Wiki
 

Ships

Mercantile

Combat

Multi-Purpose

Special

Uncraftable

 Ares •  Arrow •  Astraeus •  Atlas •  Badger •  Demeter • 16px Docksquadder •  Esoog •  Falcon •  Goldfish •  Hind •  Minnow •  Pangolin •  Rowseidon •  Steamfish •  Steam Titan •  Veteran Sparrow

-->

16px Veteran Sparrow II