Hook
Jump to navigation
Jump to search
Hook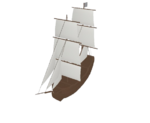 Info
| | |
| --- | --- |
| Type | Brig |
| Role | Interceptor |
| Hull Strength | 10000 |
| Speed | 9 |
| Armament | 4x Heavy Cannon, 2x Heavy Cannon (Bow) |
| Max Cargo | 8 |
| Round Shot Storage | Storage for 50 Cannon Balls |
| Command Cost | 4 (Nassau Only) |
Requirements
| | |
| --- | --- |
| Metal | 115 |
| Wood | 650 |
| Doubloons | 60000 |
| Level | 9 |
| Other | 500 Premium Tokens |

Shipwright says...
The Hook's massive bow cannons make it great for piracy.
The Hook is a somewhat small yet potent ship which is unique in being the only ship to hold Heavy Cannons on its Bow. Its low manpower and potent chasers allow it to support fleets and punish enemy heavy ships, able to effectively sternlock and deal significant damage to the main firepower of enemy fleets. The main weaknesses of the Hook are its lacking maneuverability and poor wind tilt, which combined with its below-average health makes the Hook ill-suited for broadside battling other ships and attempting to make use of wind tilt. Nevertheless, it can be a good addition to a large fleet in need of a support vessel to pressure enemy warships.
Trivia
A variant of the Hook, the Alpha Hook!, was given to Alpha testers of Tradelands World who met specific requirements. It contains a radio not found in normal Hooks.
See also
Tradelands Wiki
 

Ships

Mercantile

Combat

Multi-Purpose

Special

Uncraftable

 Ares •  Arrow •  Astraeus •  Atlas •  Badger •  Demeter • 16px Docksquadder •  Esoog •  Falcon •  Goldfish •  Hind •  Minnow •  Pangolin •  Rowseidon •  Steamfish •  Steam Titan •  Veteran Sparrow

-->

16px Veteran Sparrow II