Beaver
Jump to navigation
Jump to search
Beaver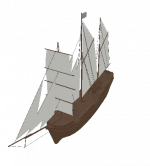 Info
| | |
| --- | --- |
| Type | Barquentine |
| Role | Mercantile |
| Hull Strength | 10000 |
| Speed | 9 |
| Armament | 6x Heavy Cannon, 2x Swivel Gun |
| Max Cargo | 18 |
| Round Shot Storage | Storage for 60 Cannon Balls |
Requirements
| | |
| --- | --- |
| Metal | 80 |
| Wood | 530 |
| Doubloons | 46000 |
| Level | 8 |
Variants
| | |
| --- | --- |
| Sentinel Variant | 6x Medium Cannon, 2x Light Cannon (Stern), 2x Swivel Gun |

Shipwright says...
Pirates will think twice before attacking a fully-equipped Beaver
The Beaver is a popular trade ship thanks to its high cargo capacity, solid armament, and favorable speed. Thanks to its well-rounded capabilities, the Beaver is as effective at fending off would-be pirates as it is with transporting cargo, particularly thanks to its pair of stern cannons and fast downwind speed, able to keep pace with even fast pirate ships such as the Corsair. However, the speed is not enough to stay ahead of ships such as the Pheasant or Marauder, whose sails allow it to outrun the Beaver even at its fastest. The crosswind on the Beaver is also only decent at best, although this is only a minor drawback to what is otherwise an effective all-around ship.
Trivia
The Fox is a Beaver with an engine.
See also
Tradelands Wiki
 

Ships

Mercantile

Combat

Multi-Purpose

Special

Uncraftable

 Ares •  Arrow •  Astraeus •  Atlas •  Badger •  Demeter • 16px Docksquadder •  Esoog •  Falcon •  Goldfish •  Hind •  Minnow •  Pangolin •  Rowseidon •  Steamfish •  Steam Titan •  Veteran Sparrow

-->

16px Veteran Sparrow II