Sigil
Jump to navigation
Jump to search
Sigil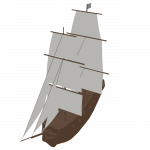 Info
| | |
| --- | --- |
| Type | Brig |
| Role | Combat |
| Hull Strength | 18500 |
| Speed | 8 |
| Armament | 12x Medium Cannon, 2x Light Cannon (Bow), 2x Swivel Gun |
| Max Cargo | 0 |
| Round Shot Storage | Storage for 150 Cannon Balls |
Requirements
| | |
| --- | --- |
| Metal | 260 |
| Wood | 1,200 |
| Doubloons | 500,000 |
| Level | 10 |
| Other | 400 Premium Tokens |
Variants
| | |
| --- | --- |
| Brawler Variant | 12x Heavy Cannon, 2x Swivel Gun |

Shipwright says...
The Sigil's impressive firepower and small size make it an excellent warship.
An intermediary between the Widgeon and Alliance, the Sigil offers the concentrated firepower of a Camel with the offensive pressure of chasers in a more compact, maneuverable package without sacrificing much hull. The Sigil serves as an effective frontline ship without the high crew requirements of a ship as large as the Alliance, allowing fleets to take larger support ships such as the Chimera or Gryphon.
Trivia
The Sigil received a variant on May 03, 2023.
See also
Tradelands Wiki
 

Ships

Mercantile

Combat

Multi-Purpose

Special

Uncraftable

 Ares •  Arrow •  Astraeus •  Atlas •  Badger •  Demeter • 16px Docksquadder •  Esoog •  Falcon •  Goldfish •  Hind •  Minnow •  Pangolin •  Rowseidon •  Steamfish •  Steam Titan •  Veteran Sparrow

-->

16px Veteran Sparrow II